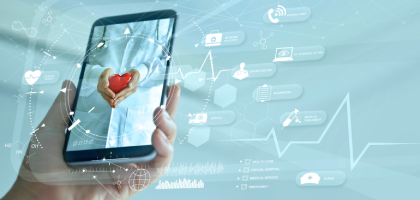 5 Key Steps for Effective Remote Patient Monitoring
One of the most important benefits of remote patient monitoring is to ensure that clinicians are cautious in sensitive treatment conditions. This service provides more clinical focus on conditions that healthcare professionals should pay extra attention to.
For example, with Remote Patient Monitoring, patients with heart failure can be closely monitored for months to keep them away from the hospital. If patients do not use their medication or consume excessive salt, healthcare professionals can intervene. When Remote Patient Monitoring is not available, these patients need to visit a doctor every 6 or 8 weeks. However, this scenario sometimes causes service providers to miss out on opportunities to provide additional care.
However, the smooth and reliable delivery of this system leaves a question mark in mind. There were also these question marks before the pandemic. Healthcare organizations are under enormous stress and have to deal with competing priorities. Healthcare providers should carefully decide which patients will be monitored remotely and have viable strategies to deal with potential problems.
In order to implement a successful Remote Patient Monitoring, the 5 most important steps need to be taken.
1. Plan Carefully Before You Begin
Healthcare organizations need to plan Remote Patient Monitoring by dividing them into two groups. The first group is the clinical group that describes the problems to be monitored and tried to be solved with RPM. This group should also decide how the monitoring will be done. For example, monitoring patients with glucose or heart monitors or surveys that can be done securely via email and patient portal.
The other group is the IT team. Many clinicians are unaware that RPM plans can face technical limits. In addition, clinicians may not have much experience with technology applications, particularly in patients' home or wearable devices. That is why collaboration of IT and Clinical stakeholders is of great importance from the very beginning.
RPM should first consider the clinical problem the team is trying to solve and identify the monitoring tools needed to achieve the goal. Clinical teams should not act unplanned like "We should do RPM, let's choose a disease". This solution can be passed on by investigating a problem. A program where technology drives strategy will not be successful.
2. Focus on Simplicity First
It is necessary to avoid overly complex RPM systems. You should keep the monitoring system as simple as possible and build success step by step. One of the most effective remote monitoring types is phone calls. For example, our healthcare systems make free phone calls made by healthcare professionals or automated phone systems.
Simple remote monitoring approaches are available for certain diseases. Heart failure is one of these diseases because patients need to be monitored directly. Patients with heart failure should have a scale to record their weight. If the weight starts to increase, the situation can be managed quickly before problems occur. Diabetes is another good example. If you are monitoring the patient's blood sugar, you can easily intervene.
The points you follow should be movements that you can point out by taking action, such as changing the patient's medication or increasing the dose.
3. Choose the Devices That Best Meet Your Needs
Hospitals have different options for managing RPM tools. Some hospitals manage the whole process within themselves. The institution buys the devices and the installation. Thanks to these devices, they feed patient data and electronic patient records. Some hospitals prefer to hire companies to manage the entire RPM process, including incident management. All hospitals should choose the most appropriate approach to their patients and staff in order to be successful.
You need to understand where you need expertise and continuity in the decision-making process. Devices may break down or not work properly, so you cannot just leave the patients on their own to solve the problem, or the patients stop trying. Decide which responsibility you want to take or which is more cost-effective.
4. Make Sure Your Goals and Processes Are Clear
The most important thing in RPM communication is why you are using this solution. Both patients and employees need to believe what you do. Otherwise, participation will quickly disappear. Determine the communication method for each group. Clinicians and patients should also receive the training they receive. Patients should show that they can send their weight electronically. If they cannot do this, they should receive more training. Clinicians also need to determine which patient is experiencing problems.
When using an RPM program, you must also make sure that the technology is working. For example, if you send a patient home with a scale connected to internet access, but there is no internet at the patient's home, you need to find a way to provide this service, for example with a mobile device.
As a result, make sure you have emergency processes in place. If a patient submits a sudden and severe weight gain report or a different emergency occurs, real-time response expectations should be clear to all stakeholders.
5. Measure Success with 5 Patient Focused Outcomes
Finally, decide how you will measure success. Process-oriented output can increase the number of patient participation in the RPM program. If 5,000 patients send even at least 1 report, an increase is observed compared to the previous month. But this is still just a number.
Conversely, if people in an RPM pool of 500 patients see that their monthly hospitalization rate drops from 7 to 4 percent, this will be patient-focused output. Patient-based metrics are even more important. You have to set these metrics at the level and the metrics should be meaningful.
In addition, you can get detailed information about essential benefits of E-Prescription by reading our article titled 10 Essential Benefits of E-Prescription See you on different topics.
Source: https://bit.ly/3dShfR8