E-Nabız: COVID-19 Response
The e-Nabız (e-Pulse) has been playing an active role in the COVID-19 pandemic process. Crucial systems which were put into use in order to monitor the sample results, follow-up information, contact monitoring of the patients together, were developed with the e-Nabız infrastructure.
Through these systems that are integrated with each other, radiological examinations, test results, past health records, follow-up reports, medication follow-up and contact follow-up of patients were provided on a single platform.
More Than 37 Million Records Queried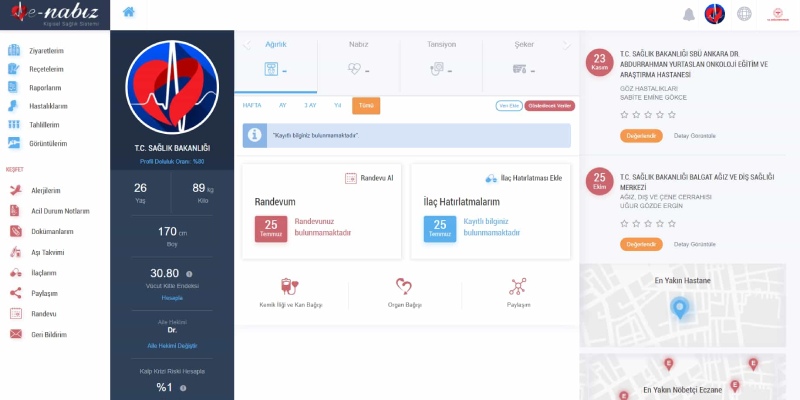 While the doctors followed the whole process of their patients through the Public Health Management System, they accessed the other diseases, medications, operations and examinations of COVID-19 patients through e-Nabız. Doctors have queried the patient history more than 37 million times so far.
Citizens did not have to go to hospitals during the pandemic process by accessing test results and chronic disease reports via e-Nabız. Covid-19 test results can be viewed both from the "Analizlerim" screen in the e-Nabız account and through a module placed on the site. The result can be learned with the identity number, passport number and barcode number information. In addition, citizens traveling abroad can download COVID-19 test result reports in Turkish, English or German.
e-Nabız Prescription System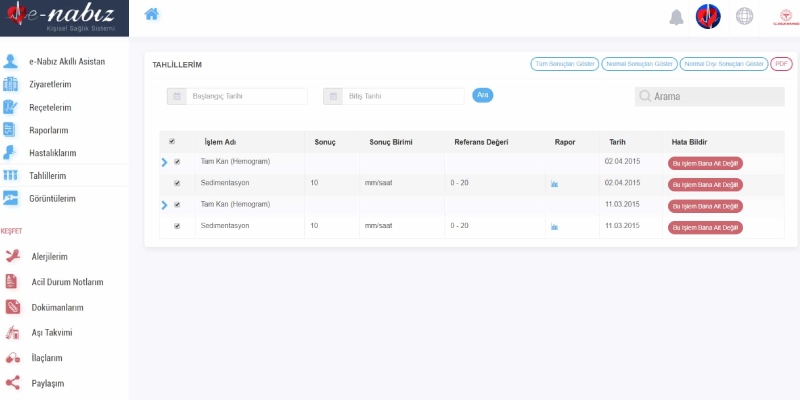 In addition, the e-Nabız Prescription System was launched in order to ensure data integrity on drugs used in the treatment of COVID-19 in hospitals and to create an appropriate data pool to develop treatment protocols. A special system was established to issue outpatient prescriptions for COVID-19 drugs to be used by patients and staff in contact with patients and to meet these prescriptions from hospital pharmacies (or a special department in the hospital where necessary precautions were taken) and this system was integrated with the Public Health Management System.
Thanks to e-Nabız my Prescription, drug use information in all healthcare providers treated with COVID-19 is entered into a single system, and by providing isolation conditions for outpatients, these patients are prevented from contacting the society.
How to Learn Coronavirus Test Results From e-Nabız?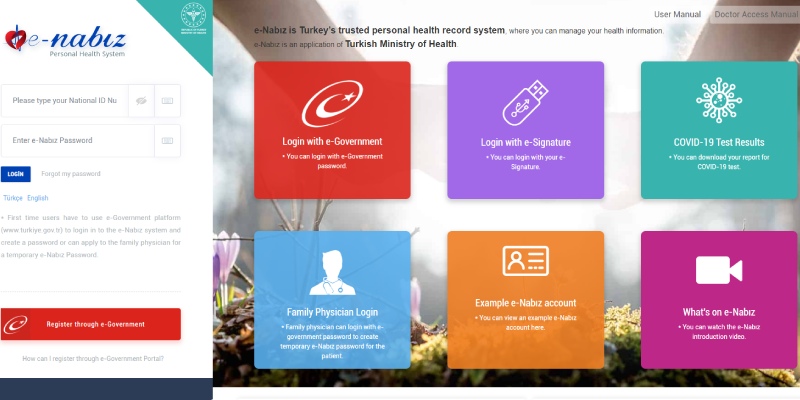 Citizens who have a coronovirus test in Türkiye can learn the test results from the e-Nabız application without going to the hospital.
• First, log in to the e-Nabız application and click on the "My Analysis" category on the left screen on the main page.
• Click on the "Covid-19 Test Results" screen that appears on the new page that opens.
• After this process, enter personal information such as TR ID number, phone number and barcode number on the page that opens.
• You can view your previous hospital records, including Covid-19 test results, on the screen you see.
Photo: Emrah Gurel / Associated Press