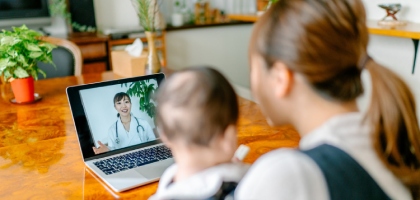 How to Make Telehealth Safer and More Effective
Telehealth has been the lifeblood of health organizations during the pandemic, but greater access to virtual care has led to increased security problems.
The National Cybersecurity Alliance offers tips for protecting patients' confidence in virtual care. Cybercriminals have benefited from the situation that has occurred since the pandemic process started. In a report published by SecurityScorecard in the past months, it was highlighted that the number of telehealth-related keywords on the black network has increased by 140 percent. Potential vulnerabilities in this system are shown as poorly secured endpoints, networks and IP addresses.
Moreover, Harvard Medical School researchers wrote in the March 2020 issue of the Journal of American Medical Informatics Association that consumer video conferencing applications are very prone to compromising patient privacy.
Trust in telehealth technology has declined due to the inadequate security measures. According to a study, 48 percent of patients whose personal health data were stolen do not want to use telehealth again. This situation may cause patients to seek a doctor's appointment face-to-face in the Covid-19 process or to give up care altogether despite the possibility of negative consequences.
Kelvin Coleman, Director of the National Cyber Security Alliance, said that we are not far from a future where people can choose the healthcare system best suited for them by deciding who best protects their information. While pointing out the current threats to preparing for the future, Coleman recommended that health systems invest in 3 key points under the heading of solutions, processes, and people.
Secure Remote Devices and Network Access Tools
Those who make decisions in the IT department need to make sure that their organizations take appropriate security measures and make the tools suitable for use. It is of great importance that these people maintain the integrity of the processes used to collect information.
For example, remote monitoring devices must support regular software updates to ensure that patches that fill vulnerabilities are installed. In addition, medical devices should only be connected to laptops and smartphones over protected Wi-Fi networks. To ensure this, strong passwords and 2-factor authorization are required.
Make Security Your Top Priority
One of the most fundamental parts of hospital businesses is to respond to physical threats and point out cyber security. Coleman emphasizes that healthcare institutions should see cyber security as a priority, even a task. Coleman said that people should see cyber security as a part of corporate culture and that this is not an issue that just can be marked on paper.
Hospital staff know how to act in a fire or adverse weather conditions, as well as know what to do in case of a data breach or ransomware attack. Coleman emphasized that the meaning of this is that cyber security measures should not be limited to the policies and that training should be given in addition to planning, to whom to report malicious links, security settings and how to scan viruses.
Healthcare Professionals Have a Key Role in Risk Reduction
Investing in people is more than hiring the best and brightest people. Investing in people is to motivate employees to stay up to date in the face of major threats and to take simple steps to stay away from this threat.
Organizations need to understand that recent changes in remote work, online learning and virtual care have increased people's awareness of how to use new technology safely. Currently, we are all adapting to new technology due to the Covid-19 outbreak, but there will be no turning back in the near future.
In addition, you can get detailed information about remote patient monitoring by reading our article titled 5 Key Steps for Effective Remote Patient Monitoring See you on different topics.
Source: https://bit.ly/3nrBdoZ