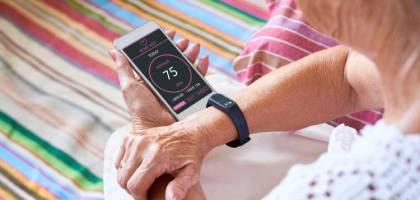 Patients with chronic diseases do not have to go to the hospital regularly if their routine controls and follow-ups can be done remotely. Today, doctors can check their patients digitally with remote patient monitoring tools and video consults.
It was observed that hospital visits and costs of people with chronic diseases decreased with the pilot program carried out in a small town in the United States. In the pilot program, elderly patients with multiple chronic diseases were cared for in their own homes, reducing emergency room visits by 35 percent. Additionally, these patients' hospital admissions dropped by 40 percent, with each patient spending an average of $8,000 less annually on healthcare. These and similar studies show that in the future, chronic diseases will be managed more at home than in a hospital setting.
Patients with chronic diseases do not have to go to the hospital regularly if their routine controls and follow-ups can be done remotely. Especially during the pandemic period, it is a much better option for the elderly and people with chronic diseases to stay at home. However, this should not affect the health service they receive. Today, with the technological developments in the field of health, most follow-up processes can be done remotely. Although nothing is more effective than in-person experience, doctors can control their patients digitally with remote patient monitoring tools and video consults.
Along with exemination methods, technology is changing very quickly. Video visits, mobile health, infrared temperature sensors and wearable devices replace clinic visits. While remote patient monitoring and telehealth have been prominent in the last few years, the workflows and processes related to these two services are also constantly evolving to improve the care delivery experience. The pandemic has only accelerated this process and revealed the need for more innovative infrastructure and device investments.
How To Manage Chronic Diseases Remotely?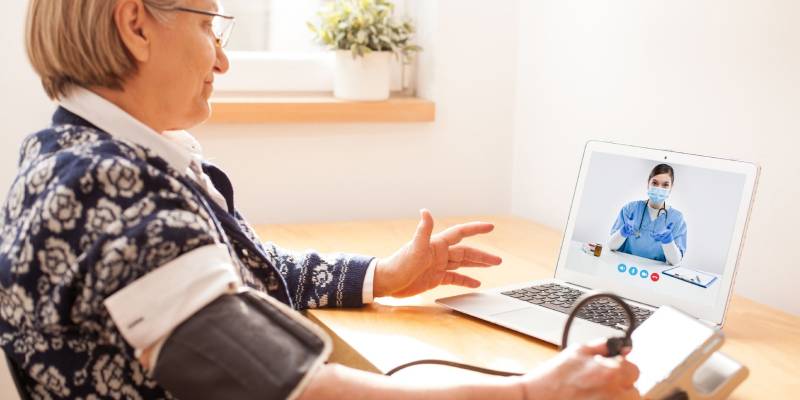 We can list the technology equipment required for more effective remote management of chronic diseases as follows:
Devices and Sensors
Medical devices and sensors help doctors measure critical data and other patient parameters. For example, blood pressure, temperature, glucometers, pulse oximeters and respiratory rate sensors are integrated with mobile applications and can be used for remote monitoring of patients. Most healthcare institutions and smaller clinics offer remote monitoring or kit devices according to each patient's needs.
Platforms
Platforms are necessary to aggregate data and facilitate communication between patients and doctors. These platforms are HIPAA compliant and offer integration with EMRs and devices.
Integration with EMR
While EMRs are part of the technology infrastructure of any healthcare system, integrating wearable data from devices into EMR can help physicians maintain data continuity. Health institutions and healthcare providers may require data to come only at certain intervals in order not to be adversely affected by the very intense data coming from personal devices. For integration with healthcare standard EMRs such as FHIR, patients should prefer devices that can integrate with the use of healthcare standards.
Data Analytics and Decision Support
Devices and sensors can create huge amounts of data and store this data in big data memory. The algorithms at the beginning of this data can help with risk reduction, predictions and reaching more people. AI techniques such as machine learning, cognitive computing, and deep learning can play a critical role in detecting chronic diseases.
Functionalities To Manage Remote Care
Atrial fibrillation, type 2 diabetes, stroke, coronary artery disease, chronic obstructive pulmonary disease, chronic wounds, and congestive heart failure are 7 diseases in which technology is used in patient care and promising results are obtained.
These diseases affect at least half of the elderly population worldwide and account for 80% of healthcare costs. Current treatment delivery for these diseases is reactive. For proactive care management, patient data at regular intervals is necessary to provide real-time feedback and adapt patients to healthy behavioral changes.
Chronic disease management requires an integrated approach focused on lifestyle changes and behavioral modifications. Chronic disease management uses technology to collect data from wearable devices, and AI and analytics to get results. Although there are not many solutions for the management of chronic diseases, it is important to have the following functionality in these technology solutions or applications:
• The ability to group patients
• The ability to engage patients
• The ability to integrate remote patient monitoring devices
• The ability to aggregate data from other hospital information systems
In addition, you can get detailed information about serialization by reading our article titled What Serialization Means for Pharma Manufacturing See you on different topics.

Source: https://bit.ly/3h7Ph42